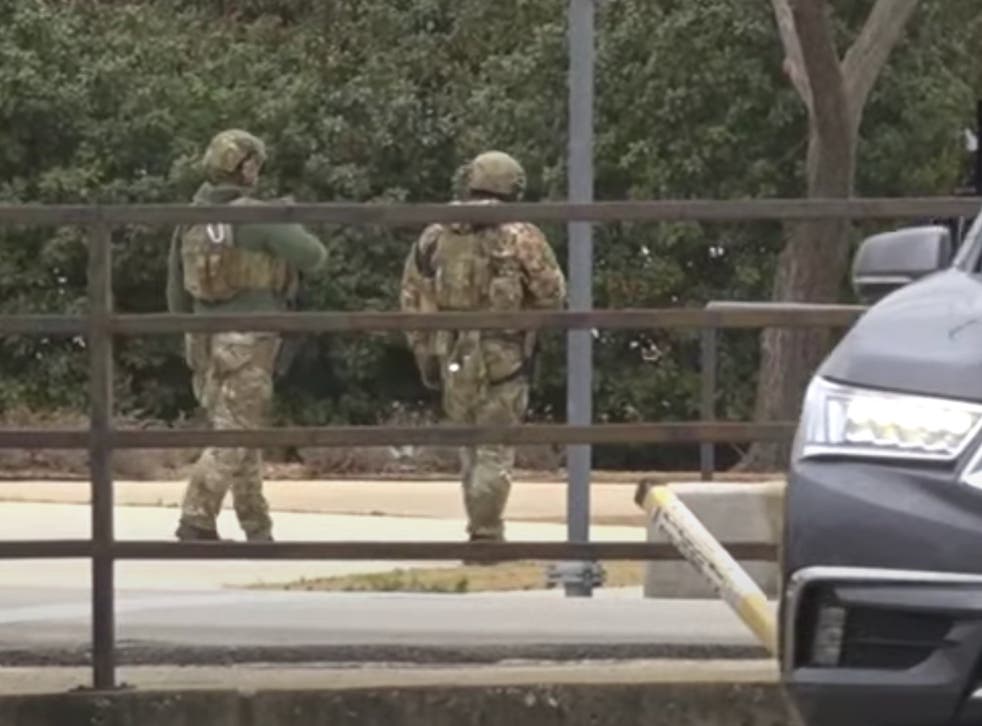 A gunman has taken hostages at a synagogue in Texas and is demanding the release of a convicted murderer known as 'Lady Al-Qaeda' from a US prison.
Police in Colleyville, on the outskirts of Fort Worth, were called to the Congregation Beth Israel at 10.41am on Saturday and were still negotiating with the hostage taker more than six hours later at 5pm.
According to reports, the gunman is demanding the release of Aafia Siddiqui, an alleged terrorist serving 86 years in a Texas prison for attempting to kill US soldiers in Afghanistan.
The Colleyville Police Department said it had confirmed there are hostages inside the synagogue but that no injuries have been reported. It said FBI crisis negotiators were still negotiating with the suspect.
The incident began while a service was being live streamed on Facebook, leading remote congregants to hear a man, likely the attacker, shouting on their feed.
In clips posted on Twitter before the original live stream was removed, a man can be heard saying: "What the f— is wrong with America? There is something f***ing wrong with this system that you are still trying to do a deal with me."
An initial report from ABC News suggested that the suspect was called Muhammad Siddiqui and was claiming to be the brother of Aafia Siddiqui, a Pakistani neuroscientist currently serving an 86-year prison sentence in Fort Worth, Texas for attempting to murder a US soldier in Afghanistan.
However, a lawyer for Mr Siddiqui said that he had nothing to do with the attack and is currently in Houston, nearly 300 miles away on the Lone Star State's coast. Activists campaigning for Aafia's release condemned the attack was "wicked" and "antisemitic".
Source link